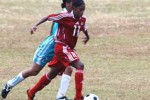 Cuba's women U-20 is now in the final phase of the Caribbean qualifying soccer, settled in Jamaica and gives two seats to the premundial of Cayman Islands. Despite losing the yesterday by 1-3 to the similar of Trinidad and Tobago, the Cuban team accessed to the higher court as the second best placed in Group B with two wins and one defeat, with 14 goals for and five against .
The girls of coach Jose Luis Elejalde will pay special attention to the morning comparison between Dominican and the host, which will be their next opponents as first classified by the key A.
If Cuba defeats on Friday either of these two combined, will reach a World Cup qualifying quota for the area, scheduled for January next year in Cayman Islands.
This fair, in turn, will award three tickets to the World Cup category, based in Canada in mid-2014.