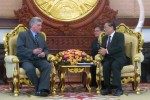 Cuban First Vice President Miguel Diaz-Canel concluded in Laos a tour of Asia this Sunday, which also took him to China and Vietnam.
Under a heavy rainfall, the Cuban delegation led by Diaz-Canel laid a wreath at the bronze statute of Kaysone Phomvihane, Laos's national hero and founder of the People's Party and the Liberation Army, and the country's former president.
Following that ceremony to tribute Kaysone Phomvihane, the Cuban vice president signed the visitors' book and wrote down his impressions about the arduous fight of Laos's people for reaching their independence from colonialists and aggressors, achieve national unity and progress.
In his second and last day of his visit to Laos, Diaz-Canel visited Ammalin Lao Silkm silk production center, where he showed interest in the silk process.
The Cuban vice president's Saturday agenda included talks with his counterpart host Bounnhang Vorachit, separate meetings with the Head of State and Party Secretary General, Chummaly Sayasone, and Prime Minister Thongsin Thammavong.
Diaz-Canel also visited Estupa Tha Luang budist temple, a national symbol inscribed in the shield of the People's Democratic Republic of Laos.
The Cuban delegation was also formed by General Leonardo Andollo, Foreign Affairs Deputy Minister Rogelio Sierra, and Cuban ambassador in Laos Waldo Reyes.