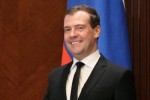 Cuba and Russia seek to strengthen ties with the visit of Russian Prime Minister Dimitri Medvedev, who will arrive in Havana this Thursday.
According to the agenda for the visit, scheduled until Saturday, Medvedev will hold talks with senior officials, and pay tribute to Cuban national hero Jose Marti at Revolution Square.
The agenda also includes the signing of agreements and a tour of Russia's exhibit at the 22nd International Book Fair Cuba 2013, among other activities.
The Russian prime minister is arriving on the island from Brazil, as part of a Latin American tour.
Havana and Moscow established diplomatic relations in October 1942. They were interrupted in 1952 by the regime of Fulgencio Batista, and resumed in May 1960.
In 2009, the parties signed a memorandum on the principles of strategic collaboration between the two countries, during a visit by President Raul Castro to Russia.