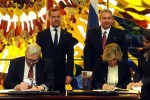 Raul Castro and Dimitri Medvedev presided over a ceremony held at Havana's Revolution Palace where several agreements were signed this Thursday to foster bilateral cooperation in different areas.
Prior to the signing of the accords, President Raul Castro had met with Russian Prime Minister Dimitri Medvedev, who is in this country on an official visit, the press reported today.
During the meeting, described as cordial, both leaders reviewed the excellent state of bilateral relations.
Both parties ratified the political will to continue deepening ties in investment, trade, tourism, health, education, science, and culture, and also discussed other current international issues.
The visitor came accompanied by Serguei E. Prikhodko and Denis V. Manturov, first deputy head of the Government Apparatus, and Minister of Industry and Trade of the Russian Federation, respectively.
Cuban Vice President of the Council of Ministers Ricardo Cabrisas, Foreign Minister Bruno Rodriguez, and Minister of Foreign Trade and Foreign Investment, Rodrigo Malmierca also attended the meeting.
Medvedev arrived in Havana this Thursday, as part of a Latin American tour started on Wednesday, February 20, in Brazil, to boost bilateral ties.
This is the second visit the president of the Russian government carries out to Cuba; the first one was in 2008 when he was the head of State of his country.
Cuba and Russia have defended the traditional bonds of friendship that unite them, and currently maintain excellent bilateral and political relations and politicians, which have reached the highest level, the information stated.