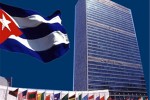 Election of Cuba for a new three-year period in the Human Rights Council (HRC) is considered a victory for the people of the island that have managed to withstand more than five decades of U.S. blockade.
Cuba's ambassador to human rights organizations based in Geneva, Anayansi Rodriguez, said this is a recognition to Cuba for its consistent position of rejecting double standards and manipulations in the issue of human rights.
In statements to Granma newspaper, the diplomat criticized the Western powers' efforts to turn the UN Human Rights Council into an inquiring tribunal against the South countries "which do not submit to their plans."
Cuba has promoted a genuine international cooperation through dialogue and concrete execution in the respective countries of economic, social, cultural, civil, and political rights, she said.
Havana has been promoting initiatives concerning the right to food, to the promotion of cultural rights, and respect for cultural diversity, Rodriguez emphasized.
Also in the construction of an international, just, and equitable order, she added.
Rodriguez said the HRC members "have the duty to have a consistent attitude in defense of the free self-determination of the peoples, sovereignty, respect to the diversity of political and democratic systems existing in the world."
Yesterday, the UN Human Rights Council elected Cuba and 13 other countries, including China and Russia, to begin functions in 2014.