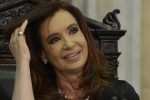 The Armed Revolutionary Forces of Colombia (FARC) wished prompt recovery to Argentinian President, Cristina Fernandez, who has improved after surgery.
A communique of the insurgent delegation participating in peace talks with the Colombian government, says that in the name of its officials and soldiers transmits to the South American president and her people a warm and Bolivarian greeting.
We join our solidarity to that of millions of Latin Americans and Caribbean people, wishing her success in her recovery, says the text.
Also, the Colombian guerrilla hopes that very soon the president can continue her unwavering effort to give welfare to her people, and also in searching for ways to unite nations of this region.
This last action -stresses the message- is an initial step to the construction of the Big Homeland "with which our heros and martyrs dreamed."