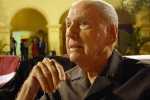 One of the most outstanding figures in the dance world and the Father of Cuban ballet, Fernando Alonso, passed away on Saturday, July 27th, at the age of 98.
Alonso, who earned prestige worldwide as one of the world's best ballet professors and one of the principal creators of the internationally known and praised Cuban ballet school, was born in Havana on December 27th, 1914.
Fernando Alonso began as a ballet student at the Pro-Arte Musical Society's Ballet School in 1936 and continued his technical and artistic training in the United States as of 1937 under the guidance of prominent professors, such as Italy's Enrico Zanfretta and Rusia's Alexandra Fedorova, Anatole Vilzak, Fierre Vladimirov and Leon Fokin.
In 1938 he joined the Mordkin Ballet and was part of various Broadway musicals. A year later Alonso joined the American Ballet Caravan –the antecedent of the New York City Ballet- and in 1940 became a member of the Ballet Theater based in the same city, later known as American Ballet Theater. He was a soloist and stayed at the Ballet Theater until 1948, when, along with his former wife Alicia Alonso and brother Alberto Alonso, got involved in the historic event of setting up in a small island nation the Cuban National Ballet Company, whose general direction he assumed for 27 years.
He was the Director of the National Ballet School from 1962 to 1967 and of  the Camagüey Ballet from 1975 to 1992, institutions to which he devoted himself with sustained and valuable creative work.
Also a jury member of several international ballet competitions and director of various dance companies in Latin America, Fernando Alonso is an inspiration for current Cuban ballet dancers who have followed his teachings and methodology which combines the best features of the European and US schools, the characteristics of Cuba as a nation and the spirit of  Cubans as human beings.