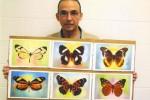 A visual arts exhibit of 25 Cuban native butterflies painted in watercolor by Antonio Guerrero, one of the five Cuban anti-terrorist fighters held in the United States since 1998, was inaugurated on Friday in the U.S. city of San Francisco.During all these prison years, Guerrero has developed his talent as a visual artist and has also written poetry books, which have been launched at Havana's international Book Fair.
Present at the inaugural ceremony were Alejandro Murguia, a prize-winning poet of San Francisco, and filmmaker Saul Landau.
The exhibition, organized by the International Committee for the Freedom of The Five, as Antonio Guerrero, Gerardo Hernandez, Ramon Labañino, Fernando Gonzalez and Rene Gonzalez are known internationally, is aimed at raising public awareness on the cause of the five Cubans.