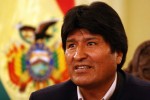 Bolivia reiterated Tuesday its condemnation at the United Nations of the latest attack by some European governments against President Evo Morales, an outrage condemned by several governments and international organizations the world over.
The incident was high on the agenda of a meeting of Bolivian Ambassador at the UN Sacha Llorenti with UN Secretary General Ban Ki-moon.
Also attending Tuesday's meeting were representatives from some member states of the Bolivarian Alliance for the Americas (ALBA), among them Cuba, Venezuela, Nicaragua and Ecuador.
One week ago, Evo Morales was returning home to La Paz from a meeting in Moscow, when four European governments, Spain, France, Italy and Portugal suddenly denied his presidential plane overfly permission, forcing the aircraft to carry out an emergency landing in Austria. The incident, which put President Morales' life in danger, immediately sparked a wave of international condemnation, particularly in Latin America and the Caribbean.
Shortly after the incident, which constituted a gross violation of the Bolivian leader's immunity status and international law, the Bolivian representative at the UN urged the world body to prevent impunity from prevailing in this case.
In a letter addressed to Ban Ki-moon, the Bolivian government warned of a serious risk should a culture of impunity take root at the United Nations, and urged the top UN official to adopt measures towards ensuring that the rule of law prevails.