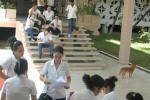 Nearly 5,000 students from 70 nations will receive next month in Cuba their diplomas as doctors in medicine, official sources announced Havana .
Dr. Jose Emilio Caballero Gonzalez, head of the Department of Revenue and Teaching Processes Control at the Ministry of Public Health, explained that nine of those countries graduate more than 100 doctors in the present course.
Among them are Bolivia with 855 medical graduates, Ecuador with 718; Mexico, 444; Argentina, 387, El Salvador, 386; Guyana, 280, Timor Leste, 194; Angola, 118, and China, 101, he detailed to Granma newspaper.
The island records about 124,700 Cuban doctors graduated from 1961 to date. Another 5,683 graduates will join to this graduation.
Cuba has a health educational system with 13 universities of Medical Sciences and three faculties, in addition to the Latin American School of Medicine.
Altogether, more than 37,000 teachers are working in the academic training of those doctors.
After the triumph of the Cuban Revolution in 1959, the country had fewer doctors than this graduation.