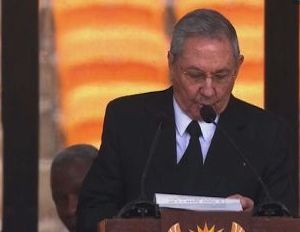 Cuban President Raul Castro stated this Tuesday  in Soweto, Johannesburg, that the former head of South African state, Nelson Mandela, was an example of perseverance and integrity in fighting to reduce poverty worldwide.
Raul Castro was one of the main speakers who participated today in the memorial service and tribute to Mandela, organized by the government and relatives at the FNB Stadium, in the southwestern region of South Africa's largest city.
The Cuban president, who was cheered on entering the facility known as Soccer City, made a global call to arrange efforts among all nations, as the exhortation Mandela always advocated.
He was introduced by a speaker to the South African audience as "the representative of a small island that freed us all." Raul Castro also stressed the consequent Mandela tribute to the common struggle of the Caribbean nation, and recalled that during a visit to Cuba in 1991, Madiba said the Cubans had a special place in the heart of the African peoples.
Nelson Mandela fought with strong will to eradicate the consequences of colonialism, slavery, and racial segregation, and is an example of integrity, the statesman stressed.
Nelson Mandela will be remembered as a man that with wisdom and generosity knew to lead his selfless and heroic people in very difficult moments in history, the Caribbean leader said.
Mandela will not make history for the 27 years he spent in prison, he will make history because he was capable of booting his soul all the poison that such an unjust punishment could produce on him, said Raul Castro.
The Cuban president arrived in Johannesburg early today, accompanied by Cuban Foreign Minister Bruno Rodriguez Parrilla, and was welcomed at the airport by the island's ambassador to Pretoria, Carlos Fernandez de Cossio.
Presidents Barack Obama (USA), Dilma Rousseff (Brazil), Hifikepunye Pohamba (Namibia), and Pranab Mukherjee (India) and Chinese Vice President Li Yuanchao, spoke before Raul Castro at today's ceremony.
Following the Cuban president's speech, the funeral ceremony was closed by South African Head of State Jacob Zuma, who confirmed on Dec. 5 at a national release the demise of the anti-racist fighter Nelson Mandela.