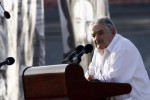 When delivering his speeh in Santiago de Cuba, Uruguay President José Mujica referred to the significance of Cuba in the region.
This is the Revolution of dignity, the example for Latin America. This Revolution planted dreams and hope on us, said President of the Oriental Republic of Uruguay, José Mujica Cordano, when delivering his speech this morning at the national major celebration to mark the 60th anniversary of the attack on Moncada and Carlos Manuel de Céspedes garrisons, held at Santiago de Cuba's Ciudad Escolar 26 de Julio.
The top governmental leader reminded the significance of Cuba in the region, and thanks the island for what it's done for the sake of dignity, and its decision to fight and defend its freedom and self-determination.
Jose Mujica also said that current and future worlds are only possible if people get used to respect dignity, tolerance, diversity, and to the fact that powerful ones have no right to affect the weaker ones.
"We are convinced, he said, that man has the capacity to build a better world, and that fighting capacity must be used to have a world of respect, a world of equality. Human life must be respected, and rich people has to understand and respect the rest of the people".
The world changes and moves, Mujica said, "because there are people committed to dream and fight, like those Cuban young men and women who attacked Moncada garrison".