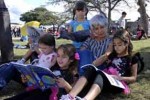 The XXI International Book Fair came to a close in esatern Cuba after 25 days in which printed letters took over major cities, since the opening in Havana on February 9.
The biggest event of the national culture has become a tradition in the early months of each year and this time it paid tribute to prominent intellectuals Zoila Lapique and Ambrosio Fornet and to Caribbean.
On Sunday, the results of the event were  announced as well as the personalities and countries that will receive the recognition of the upcoming event, which preparations begin just after closing this edition.
Titles such as "Cuba colonial: músicos, compositores e intérpretes" and "Vocablos africanos en la música popular cubana", by Lapique, and "Rutas críticas", "A título personal" and "El libro en Cuba", by Fornet, all by the editorial Letras Cubanas, were  presented.
Each year, Santiago de Cuba is responsible for the closing of the literary event, and this time a great show took place in the Paseo de la Alameda, by the bay.