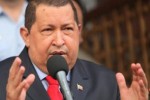 Venezuelan President Hugo Chavez announced that, in the coming days, he will undergo a new surgery in Cuba, which will be performed by the same medical team that removed a cancerous tumor from his pelvic region last year.
Speaking over the phone for the TV program "Contragolpe", aired by Venezolana de Television, Chavez said the operation would take place "without rush and in due course".
He explained that the surgery would not take place in Venezuela because it would then be necessary to implement and activate several mechanisms, while in Cuba they would require the same personnel and equipment.
Chavez announced on Tuesday that, during a medical checkup in Havana last weekend, a lesion was detected in the area from where he had the cancerous tumor removed, but he denied rumors that the cancer had spread aggressively.
"I completely deny what's going around that I have metastasis in the liver or I don't know where, that the cancer has spread all over my body and that I'm already dying", he said.
The Venezuelan leader said the operation should be less complicated than the previous one in June 2011.
Taken from AIN