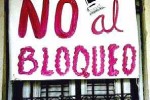 Alan S. Hoffman, an American professor from Washington University was unable by the Treasure Department of the United States (US) to give classes in a course on biomaterials in Cuba, the website of the Foreign Ministry denounced.
As consequence of the blockade of the U.S against Cuba, Professor Hoffman may not participate in the III International Course on Biomaterials which started in this country on Friday, website www.cubaminrex.cu explained.
Julio San Roman from the Institute of Polymer Science and Technology of Spain, and James Kirkpatrick, a professor at Mainz University in Germany attend the forum which is being held in Havana's San Geronimo School until next March 23.
The courses match with the international conference New Materials in the Age of Convergence and are sponsored by UNESCO's Biomaterials Department, the Biomaterial Center of Cuba and the National Research Council of Spain.
Among other topics those attending will debate on the challenges and the perspectives on biomaterial development, and they will present the results in the methods of preparation and processing and tissue engineering. (Taken from PL)