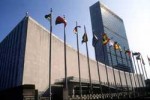 A strong presence of Latin American and Caribbean issues will mark today the second day of the UN General Assembly's presidential debate, with speeches by eight heads of State of that region.
The first will be Mexican President Felipe Calderon, who will address the plenary session before handing over power to his elected successor, Enrique Peña Nieto.
Then, Colombia's Head of State Juan Manuel Santos will speak. His speech generates great expectations after his government's decision to open negotiations with the Revolutionary Armed Forces of Colombia-People's Army.
Those talks have cooperation from Cuba, Norway, Venezuela and Chile.
Today's speakers also includes Guatemala's President Otto Perez Molina, and Costa Rica's Laura Chinchilla, both from Central America, and Haiti's Michel Martelly.
Bolivian President Evo Morales, one of the strongest promoters of indigenous peoples' issues and problems, and of Mother Earth within the UN agenda, will speak from South America.
The last speakers todayare Antigua and Barbuda's President Baldwin Spencer, and Trinidad and Tobago's George Maxwell Richards, both from the Caribbean region.
Brazil's President Dilma Rousseff, Dominican Republic's Danilo Medina, Honduras' Porfirio Lobo, Argentina's Cristina Fernandez, Panama's Ricardo Martinelli, and El Salvador's Mauricio Funes, spoke during the first day of sessions.
The General Assembly debates will run until October 1, and include the participation of some 120 heads of State and Government, as well as ministers and senior officials from 193 UN member countries.