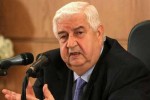 Syria called on the UN today to urge an end to the supply of arms, funding, training and protection of terrorist groups in that country and put an end to violence.
The claim was made by Deputy Prime Minister and Syrian foreign minister, Walid al-Moallem, speaking Monday to the plenary of the General Assembly and noted that Damascus still believes in a political solution to end the crisis.
To reach that goal, he urged all parties and political groups, both within and from abroad, to a constructive dialogue and said that "doors and hearts of Syria are open for anyone wanting to build and dialogue. "
He said the results of the national dialogue " will be the road map and the future of the country in the establishment of a more plural and democratic Syria."
Al-Moallem said that the success of international efforts require not only the commitment of the Syrian government, but also the aid by the States of supporting armed groups, including Turkey, Saudi Arabia, Qatar and Libya.
He stressed that the failure of the Security Council to issue a condemnation of terrorist acts in Syria is because some of its members support these actions.
The minister stressed his government's support to the mission of UN observers who worked in his country and the initiatives of former U.N. special envoy, Kofi Annan, including the so-called six-point plan.
Syria will continue to work with the Patriotic components of the opposition to build a new democratic and pluralistic country that meets the aspirations of his people, he insisted.
But at the same time, he clarified that his duty to protect people from groups that provides terrorist groups with arms, which expand the chaos, creating sedition among the Syrians and threatening peaceful coexistence.