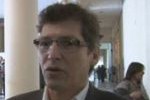 The blockade imposed on Cuba by the United States is a historical aberration, said Oscar Madoery, PhD in Political Science, of the University of Rosario, in Argentina.
Madoery told Prensa Latina that the struggle of the Cuban people have been heroic to face the U.S. siege of more than 50 years.
The Cubans have suffered daily the impact of the blockade, considered more terrible even than the issue of the Falkland Islands in terms of direct concern to the Argentines by the British occupation of that territory, the academician said.
He stated that prior to the recent elections in the United States, a debate in Argentina was held, in which participants stated that a Democratic president is better than a Republican one.
However, he did not fail to say that some of the harshest measures against Cuba had precisely come from governments of that ideological trend.
Regarding the resolution recently adopted at the United Nations on the need to end the U.S. blockade on the Caribbean island, Madoery said that to achieve a change within that agency is necessary.
Cuba received support of 188 countries in its resolution presented at the international body to condemn the blockade, which has already cost $1.066 trillion dollars to the island, until December 2011, according to Cuban authorities.