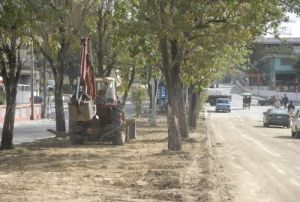 The most important path in the Cuban central city of Sancti Spiritus is subjected to a rehabilitation process that includes the paving of one of its stretches.
Although specialists agree that there is not a space with more circulation in the Yayabo Village, this time the movement is unusual and the hundreds of pedestrians who travel the route daily look astonished at the slabs removed from the earth that make up the pavement along a long stretch of the Avenida de los Martires (Martyrs' Avenue), which links the historic center with the urban development area.
Due to the increase in the deterioration of the more representative public spaces of Sancti Spiritus city as well as its main access routes, as part of the activities awaiting the 500 anniversary of the village, it was decided to rescue this stretch of the Yayabo Paseo (avenue), the most important in the city with a special meaning to the lives of locals.
In times of rain the corner opposite to Sancti Spiritus university is prone to flooding due to problems in the networks,  so the entire floor was demolished to carried out the water works, in a way that later on the preparation and compaction may take place, to finally start to melt, activities to be performed after working hours with the support of organizations and agencies.
Although the furniture is not going to be changed, the aim is providing this public space with a different image and carrying out a more organized location of benches, while the trees will remain as of today, with a bed around them in order to protect the pavement due to the pressure of the roots.