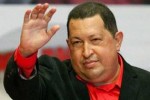 Venezuelan President Hugo Chavez was successfully operated in Havana on Monday and is now in good physical condition, announced the Executive Vice president of the Government, Elias Jaua.
A communiqué on the health of the president was read by Jaua at the beginning of his speech at the National Assembly plenary, to which he gives information on the government's performance last year.
The medical team set the date for the surgery as soon as possible and it was carried out as it was planned. The operation was a success and a recovery plan has been set for the coming days, says the communiqué read by Jaua.
It also adds that president Chavez is in good physical condition accompanied by his family and he is in permanent contact with the Executive vice president and the Bolivarian Government.
Regarding the results of the surgery, the communique reveals that the diagnosed pelvic injury was totally removed, as well as the issue surrounded the injury. There were no complications related the local organs.
The head of the Venezuelan State travelled to Cuba on Friday to undergo surgery due to a new injury, which appeared in the same place where a tumour with cancer cells was removed in June last year. (Taken from PL)