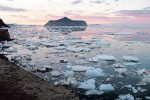 A study published in Nature Geoscience magazine warned about a warming in the ice layer of West Antarctica twice as fast as normal.
This contributes to an increase of 10 percent of the sea levels, which threatens coastal cities and small islands.
According to the study conducted by experts from the Byrd Polar Research Center, the temperature in that region of the planet has risen 2.4 degrees since 1958.
Scientists analyzed and completed the data ranging from 1957 to 2011.
According to scientists, summer warming in West Antarctica could alter the balance in the frozen mass, which would contribute to increase the sea levels.