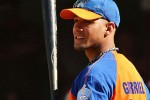 An attractive three-game series began Saturday between Industriales Blue Lions and Sancti Spiritus Roosters in the latter's headquarters, the Jose Antonio Huelga Stadium.
In the past seasons this encounter had turn into great rivalry as both teams are "enemies" within the West region. Bu this only history. Sancti Spiritus needs desperately to win the subseries vs. their adversaries.
Industriales is Cuba's top winner in the current season with a 43-29 record, and even if they lost the last subseries vs. weak Mayabeque, the team is a dangerous rival. Their men lead the offensive with a 304 ave, the defence works for a 972 ave and the pitching goes for a 4, 55 ERA.
Roosters try hard to get the 4th and last ticket to play off in the West region, as they hold a 34-37 record, only one game away from 4th placed Pinar del Rio, currently champions of the Cuban baseball.
Sancti Spiritus recent numbers (278 ave, 967 defence ave, and 4, 00 ERA) make them belief they can get to the final stage, but this is yet to be proven.
Roosters' ace Ismel Jimenez is expected to give their team the first victory and thus continue to be the most winning hurler in the season.