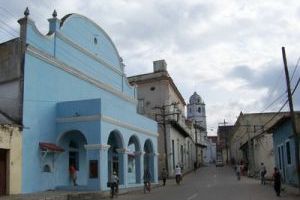 The capital reconstruction of Sancti Spiritus Teatro Principal (Principal Theater), symbol of the Cuban central city, has entered the final stages while approximating the 70% of its total execution with a plausible result in the already finished areas.
The works in the property, considered to be one of the most significant exponents of the colonial neoclassic style architecture, were priced last year at 901 000 pesos and for its conclusion some 863 000 pesos are also to be spent.
Lidia Rosa Alfonso, an investor of the Culture sector in Sancti Spiritus, said to Escambray that the dressing rooms, the electric and the stage machinery systems, lighting and audio, bathrooms, hydraulic and sanitary facilities as well as the theater plank and all the carpentry and resources needed for the scenery are among the concluded works. The final stage should be extended to June or July as some other key details are to be taken care of.
The modernization and reconstruction of Sancti Spiritus Principal Theater will allow residents to enjoy performances and to widen the spectrum of presentations in the facility.
The Teatro Principal was inaugurated on July 15th, 1839 with the aid of Blas Cabrera and the residents of the central Cuban village at that epoch.