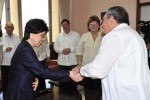 Cuban President Raul Castro met this Friday, March 30th with the Director-General of the World Heath Organization (WHO) Dr. Margaret Chan, who's currently visiting the island.
Castro and Chan talked about different topics related with the excellent cooperation links that exist between Cuba and WHO.
The meeting was also attended by Dr. Mirtha Rosés Periago, Director of the Pan American Health Organization (PAHO); José Ramón Machado Ventura, First Vice President of the Cuban Councils of State and Ministers; Cuban Foreign Minister Bruno Rodriguez Parrilla; and by Cuban Health Minister Dr. Roberto Morales Ojeda.
(Taken from Granma and traslated by Escambray)