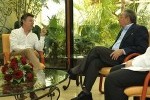 Cuban President Raul Castro received his Colombian counterpart Juan Manuel Santos, who came on a brief working visit to Cuba on Wednesday. The talks were also attended by foreign ministers Maria Angela Holguin and Bruno Rodriguez Parrilla.
During the meeting, the two heads of state exchanged views on the positive course of relations between Bogota and Havana and on issues of regional and international interest, including the situation caused by exclusion of Cuba of the so-called Summit of the Americas.
The talks were also attended by foreign ministers Maria Angela Holguin, from Colombia and Bruno Rodriguez Parrilla, from Cuba.
After meeting with the Cuban leader, President Santos visited Venezuela´s Hugo Chavez Frias. This meeting was attended by the Colombian foreign minister and her Venezuelan counterpart Nicolas Maduro. At the end of the talks, President Raul Castro joined them in what became a gathering of the presidents of the three Latin American nations and their foreign ministers.
Shortly before returning to Colombia, President Santos said that a consensus on Cuba´s attendance of the next Summit of the Americas was not reached, so "it is very difficult to extend an invitation."
Juan Manuel Santos was seen off at Havana´s Jose Marti International Airport by Cuban foreign minister Bruno Rodriguez. The Colombian head of state told reporters: "we have analyzed, in detail, the issue relevant to the participation of Cuba at the Summit that will be held in Cartagena, Colombia, next month, but as we have said since the beginning, this is an issue requiring consensus, which unfortunately we have not been able to achieve, he said.
President Santos appreciated the hospitality and generosity that marked the welcome given by Raul Castro during his working visit to Cuba.
The Colombian president traveled to Cuba on Wednesday to meet with Raul Castro and with Hugo Chavez. He explained he held a series of very fruitful and nice meetings with his Cuban counterpart on issues of international, regional and bilateral interest.
Santos also expressed his willingness to help avoid the repetition of this "uncomfortable situation," which has prevailed for many years without a solution, at the next Summit to be held in Panama.
As to his meeting with Venezuela´s Hugo Chavez, Santos said he found him in very good health and with a high spirit.  (Taken from RHC).