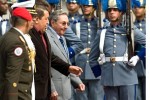 Cuban President Raul Castro attended this Saturday, February 4, the main meeting marking the 20th anniversary of the February 4 military uprising in Venezuela. The meeting was presided over by President  Hugo Chavez.
TeleSur broadcasted images of the beginning of the military parade held in Caracas on the occasion of the event led by Hugo Chavez, which led to the triumph by election of the Bolivarian Revolution, six years later.
Also present in the central meeting, presided over by President Chavez, were other heads of state and government who were invited to participate in the celebrations and who will participate in the 11th ALBA Summit. (Taken from ACN).