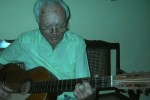 The 3rd Popular Music Festival Arturo Alonso is attended by song writers and singers from all over the Cuban island.
Pieces that highlight links of Canary Islands with the Cabaiguan municipality, in the central province of Sancti Spiritus, will be present among the 16 finalists of the 3rd Popular Music Festival Arturo Alonso, to close tomorrow.
One of them is titled Canary Islands, another is named Tribute to Cabaiguan, town considered the Canary capital of Cuba due to the many immigrants from those Iberic islands who settled here with their customs and traditions, many of which are still kept by their descendants.
In statements to Prensa Latina, Rafael Alonso Valdes, director of Culture in that territory, explained this Friday in the town's movie theatre, the audience will enjoy these and other songs while announcing that the known Cuban singer Hector Tellez is member of the Festival jury.
He also mentioned pianist Ramon Alonso, son of the composer that bears the name of this Festival, held on the third occasion.
Arturo Alonso, born in the province of Ciego de Avila on March 9, 1924, lived since his childhood in Cabaiguan, where he died with 87 years in 2010,
He wrote over one thousand pieces, many of them inspired in the Canary Islands and in 1997, in the La Palma Cabildo, they published one of his books, The Eighth Island (La Octava Isla) with rhymes, memories and melodies.
His best known work both in the Caribbean island and abroad, was Accomplish your Mission (Cumple tu Misión).
The Cabaiguan Director of Culture stressed that the competitive part of the event will be held today and the Grand Prix will be announced on Saturday, together with the three best performances in interpretation and composition, including a Prize to Popularity.