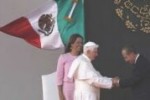 Pope Benedict XVI on Saturday officiated his first mass in Mexico, held at the chapel of the Miraflores College and only attended by the Papal entourage, other priests and nuns from the local congregation.The school, where Benedict XVI is staying, is located in the city of Leon and is administered by the religious congregation of the Slaves of the Holy Eucharist and of the Mother of God.
In the afternoon, the Pope will pay a courtesy visit to Mexican President Felipe Calderon at the House of Count Rul, in Guanajuato.
He will also tour the capital of the state of Guanajuato and the city of Leon in his traditional Popemobile.
The mayors will grant His Holiness the keys to the two cities.
At the end of the day, Pope Benedict XVI will greet children at Plaza de la Paz (Peace Square).
(Taken from PL)