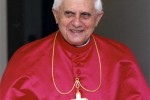 The Holy See (Vatican) confirmed Tuesday the official calendar that Pope Benedict XVI will fulfil in his trips to Mexico and Cuba at the end of March. According to the Vatican press room, the Pope will leave on Friday March 23 from airport Leonardo da Vinci-Fiumicino, in Rome, toward the city of Guanajuato in Mexico.
The following day, he will give a mass in the Chapel of the School of Miraflores in that city, before visiting Mexican President Felipe Calderon and speaking with Mexican children in La Paz Square, specified the source in an official statement.
On March 25, the Pope will carry out another homily in the Park of the Bicentennial at the city of León and then he will celebrate the eves with the Bishops of Mexico and Latin America in the Cathedral of Madre Santisima de la Luz.
Benedict XVI will conclude his visit to Mexico on Monday 26, when he will depart for the province of Santiago de Cuba, in the eastern part of Cuba.
That same day, he will celebrate a mass in the Antonio Maceo Plaza, for the 400th anniversary of the discovery of the image of the Virgin of La Caridad del Cobre.
On Tuesday, March 27, he will visit the Virgin's sanctuary in the town of El Cobre, before going to Havana, the capital of Cuba, where he will talk to governmental and ecclesiastical authorities.
On March 28, he will celebrate his last mass of the tour at the Revolution Plaza in Havana and in the afternoon he will return to Rome.
This will be the Pope´s second trip to Latin America. In 2007 he was in Brazil to preside over the 5th Latin American Episcopate General Conference. (Taken from PL).