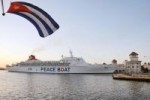 Members of the Peace Boat, on a visit to Cuba, expressed their satisfaction for the meeting held on Thursday with Commander in Chief Fidel Castro at Havana's Convention Center.
While speaking with the press at the Friendship Center, Yoshioka Tatsuya, General Director of this project, highlighted the kind treatment received from the leader of the Cuban Revolution, who called upon them to strengthen the world battle for peace and nuclear disarmament.
Tatsuya expressed his willingness to continue strengthening bonds between Cuba and Japan, particularly in the medical sphere, which will make it possible to offer support to the children of Fukushima, since the island has valuable and efficient programs to help the victims of the Chernobyl nuclear disaster.
We think it could be an interesting project to develop on the future, pointed put the Japanese activist, who participated on Thursday, along with other members of the ship, in the Forum for peace and against nuclear weapons.
They expressed their intention of continue visiting the island in spite of the restrictions of the economic, commercial and financial blockade imposed by the United States on the Caribbean nation.
In addition they committed themselves to continue spreading the horrific consequences left by the bombings against Hiroshima and Nagasaki in 1945, as asked by Fidel during his emotional meeting with them.
More than 700 activists make up the current crew of the ship of that land of the Far East and of other countries of Asia and Europe, including 10 survivors of the criminal US nuclear bombing against these cities in mid 20th century.
The Cuban Children's Theater Group La Colmenita, a Good Will Ambassador, said farewell to the delegation of the Peace Boat, which shortly after would conclude its visit number 15 to Cuba. (Taken from ACN)