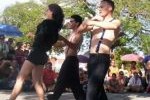 With a warm reception from the audience, the XV National Amateur Theatre Festival Olga Alonso ended Sunday in Fomento, Sancti Spiritus, in central Cuba. Two projects shared the Grand Prix of the drama fete attended by six provinces.The Grand Prix of the XV National Amateur Theatre Festival Olga Alonso was jointly awarded to Sancti Spiritus projects Agon Teatro with the work Desgranando la mudez, and to Transiciones, for El Niagara en bicicleta.
The jury, chaired by Orlando Luis Antunez, director of the group La Andariega, from Camaguey, praised the plays staged.
The female actor award was to Anaisy Valladares, from Cienfuegos group Teatro del Sol y la Luna (Moon and Sun Theater), and her role in the play La Cecilia, while the male performance was for Andy Companioni Livan, who proved his acting potential in The ring, by Virgilio Piñera, presented by Farsa Teatro (Theatre Farce), from Sancti Spiritus.
The best dramatic text was Desgranando la mudez (Husking the silence), by Fomento's writer Pedro de Jesus Lopez, who adapted it from his poems Granos de mudez.
In addition to Sancti Spiritus representatives, the 15th version of the National Festival Olga Alonso was attended by projects from Cienfuegos, Villa Clara, Guantanamo, Ciego de Avila and Camagüey.
The program of the XV National Amateur Theatre Festival in its final day included a tribute to art instructor Olga Alonso, in the obelisk which perpetuates her memory in Casa Zinc, where she died on March 4, 1964.