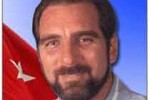 Lawyer Phillip Horowitz warned that the stay under "supervised release" in the United States of Rene Gonzalez, one of the five Cuban antiterrorist fighters unjustly held in that northern country, is a risk for his security.
"There is a great fear for Rene's security," Horowitz said at an interview in which the Cubadebate website posted some fragments on Thursday.
After four months of his supervised release on October 7, the U.S. lawyer in charge of his case stated that there are some sectors in that northern nation determined to issue lies to instigate hatred against Rene.
When a person with a high position at the House of Representatives (according to Cubadebate, it refers to Congresswoman Ileana Ros-Lehtinen, known for her hostility against the Cuban Revolution) falsely says that she has U.S. blood in her hands, she is designed to put the public opinion against him, Horowitz said.
The antiterrorist was detained in 1998 along with Gerardo Hernandez, Antonio Guerrero, Ramon Labañino and Fernando Gonzalez. Their real crime was to monitor violent groups that from Miami operate with impunity against his country.  (Taken from PL).