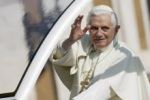 Pope Benedict XVI's visit to Cuba is an excellent opportunity to show the reality of the country and its Revolution, the president of the National Association of Cuban Writers and Artists (UNEAC), Miguel Barnet, said in this capital.
The world-renowned author stated that the trip of His Holiness to Cuba, on March 26-28, is an act of honesty and justice with the people and the principles of the Cuban process: solidarity, ecumenism, and cultural, religious and sexual diversity.
It is a man, who amid a great network of information, receives many criteria about Cuba and the Revolution, some of them can be diverse, emergin from neoliberalism and, therefore, a close contact with the island is very important, Barnet told the press.
Benedict XVI will arrive in a country where he will discover many things, because we just completed a process of analysis and confirmation of our social values, and it would be positive that he could see the observations made during the Conference of the Communist Party of Cuba (PCC), held in January, the UNEAC president noted.
Barnet recalled that one of the issues discussed in the party's meeting, specifically number 57, established the diversity of Cuban society in different spaces, including the religious one.
Taken from Prensa Latina