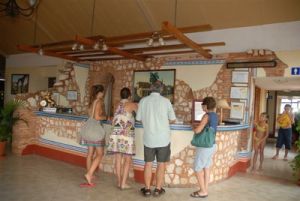 Las Cuevas Hotel, located just a few meters away from Trinidad's historical center, in Sancti Spiritus province, stands out among the resorts of the central Cuban region due to the great performance in various indicators of efficiency.
Trinidad radio station digital site refers that the facility, favored by the surrounding nature, with lush vegetation, and an enviable view of the sea, shows favorable economic dividends in the first months of the current year 2012 when compared with the same period of 2010, plus setting a record for February.
Foreign exchange incomes in the hotel of the City Museum of the Caribbean surpass the 100% and the rise in the tourist-day indicator places the facility among the best in the Trinidad-Sancti Spiritus tourist resort in achieving significant advances in different signals of efficiency, under the premise of providing authentic, professional and quality services.
Yonailin Rios Gonzalez, director of the resort, said his group is determined to increase the level of satisfaction of customers through different actions, such as those implemented in the rooms to raise their comfort for those who prefer this Cuban tourist destination.
Rios Gonzalez also stated some work has been done in the buffet, where the menu is checked systematically and the decoration of the plates and areas is being improved, all of which translates into higher quality.
Las Cuevas Hotel, belonging to the Cubanacan chain, stands on a series of ancient caves, hence the name. It is distinguished as a natural balcony facing the Caribbean and the mountains of the Massif Guamuhaya, making it more appealing to guests from markets such as France, Germany, England and Holland, among others, who feel satisfied with the careful attention and charm of the place .
[nggallery id=13]