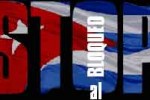 Haitians condemned Washington's policy against Cuba.
The Club of Friends of Cuba in the Haitian city of Leogane, east of this capital, ratified its support for Cuba's struggle against the blockade imposed by the United States for over half a century.
Members of the solidarity group condemned Washington´s policy at a meeting with the chief of Consular Affairs at the Cuban Embassy in Port-au-Prince, Junier Calderón, diplomatic sources told Prensa Latina on Saturday.
Club President Jimmy Doriscat thanked the Cuban government for its support for the Haitian people in several sectors, mainly in public health.
Haiti and Cuba are only one people, he said before his compatriots and Cuban collaborators who are rendering their services in the sugarcane mill in Leogane.
According to official statistics, the U.S. economic, commercial and financial blockade had cost Cuba 1.66 trillion dollars until December 2011, considering the depreciation of the U.S. currency against gold.