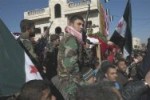 Cuba warned on Tuesday that a civil war in Syria, or an intervention of foreign forces, can impose serious consequences for all mankind and in particular, for the convulsive region of the Middle East.
Speaking at the debate of UN Human Rights Council on the Arab nation, the Cuban Ambassador Rodolfo Reyes, affirmed that his country supports the search for a political solution to the current crisis, fully respecting the sovereignty and independence of Syria.
Reyes described as particularly alarming the calls from those who promote a change of regime and are in favor of the use of force and violence, rather than contribute to dialogue and negotiation between all parties.
The role of the international community at this time of difficulty of a UN member state, is to help to safeguard peace and stability in that country, not to encourage actions that cause death, crime, assaults on innocent people or insecurity, he said.
He added that his country is closely monitoring the situation in Syria and its international repercussions, knowing that the available information is fragmented, vague and subject to frequent handling.
Cuba shares the concern for the loss of innocent lives anywhere in the world. But our country categorically rejects attempt to attribute it selectively, in accordance with the interests of a group of powers he expressed. (Taken from PL)