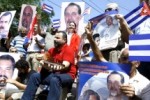 The head of the Belarusian Orthodox Church, Kiril Vajromeev, has expressed interest to join the cause for the liberation of the five Cuban prisoners held in the United States since 1998.
During a meeting with the Cuban ambassador in Minsk, Alfredo Nieves, the religious leader endorsed the Cuba's right to demand the return home of Gerardo Hernandez, Ramon Labanino, Fernando Gonzalez, Antonio Guerrero as well as Rene Gonzalez, who's currently on probation after 12 years of unjust imprisonment.
Vajromeev highlighted the increasing number of Nobel laureates and other personalities, religious institutions and academic, cultural and human rights organizations around the world that have spoken in favor of the release of these counterterrorism fighters.
Gerardo Hernandez, Ramon Labanino, Antonio Guerrero, Fernando Gonzalez and Rene Gonzales, known internationally as the "Cuban Five" were jailed in September 1998 for reporting on violent schemes by far-right anti-Cuban groups based in Miami. They were then convicted in 2001 by a Florida court on alleged espionage charges. The Five were given excessively long sentences, put in separate jails in different parts of the country with periods of solitary confinement, and routinely denied visits by their family members, who are residing in Cuba.