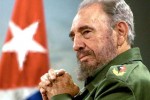 Cuban Revolution leader Fidel Castro presented Brazilian President Dilma Rousseff with a two-volume biography on his life, which has not yet been published. Fidel and Dilma held a private meeting in Havana, during the official visit by the Brazilian President to Cuba.
Brazilian diplomatic sources told Globo news chain that Dilma Rousseff and Fidel Castro addressed several issues, such as the crisis in Haiti.
The Brazilian head of state said it would be her pride to be received by the Cuban leader. She had previously visited Cuba and met with Fidel during a congress on economy back in 1982.
During her stay in Havana this week, Dilma Rousseff held fruitful meetings and signed important bilateral economic and commercial accords, according to the Cuban television newscast.
Cuban President Raul Castro accompanied Rousseff on a tour of the Mariel harbor, in the western province of Artemisa, where they were briefed about the pace of ongoing investment and the strategic significance of the container terminal currently in the works at the place.
Rousseff was seen off Wednesday morning by Raul Castro at Havana´s Jose Marti International Airport.  (Taken from RHC)