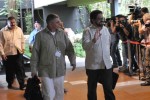 The Revolutionary Armed Forces of Colombia-People's Army (FARC-EP) announced today in this capital a unilateral ceasefire starting tomorrow, until January 20, 2013.
After arriving at the International Conference Center, venue of the peace talks with the Colombian government, guerrilla commander Ivan Marquez read a statement from the Secretariat of the FARC-EP announcing the decision.
The government of Juan Manuel Santos has ruled out the option of a ceasefire, arguing that this would be the final result if talks are successful.
The parties are formally opening roundtable discussion here today, to try to end more than 50 years of armed conflict.
For the government of Juan Manuel Santos the group responsible for the peace talks is led by former vice president Humberto de la Calle, while commander Ivan Marquez is representing the FARC-EP.
Besides the land issue and its comprehensive development in the Colombian countryside, the dialogue's agenda includes four points, set in the "General Agreement for ending the conflict and the construction of a stable and lasting peace."
Political participation, the end of the conflict, the problem of drug trafficking, and care for victims of more than 50 years of bloody hostilities complete the program established in an exploratory meeting in Havana, held between February and August 2012.