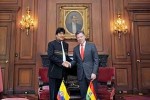 Bolivian President Evo Morales, arrived to Bogota on Thursday to meet his first state visit to Colombia, where he will meet with his counterpart, Juan Manuel Santos, to endorse the commitments of friendship and cooperation of both parties.
Morales's visit takes place within the framework of the celebration of 100 years of the first Treaty of Friendship between the two countries, signed on March 19, 1912, in La Paz.
In the Presidential Palace (Executive Headquarters) the leaders will talk about the Mechanism of Political Coordination and Security 2 +2 in which will participate , besides the foreign ministers, the Defense ministers of the two countries.
Another issue to be addressed is the Andean Electricity Interconnection project, in which Colombia, Chile, Ecuador and Peru are involved, and the deepening of cooperation in technical, scientific and cultural issues.
At the same time, the Sixth Summit of the Americas, the General Assembly of the Organization of American States, the Andean Community and the fight against the drug problem worldwide, also will be other matters to be discussed at the meeting. (Taken from PL)