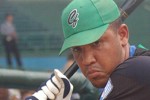 An attractive three-game series began Monday between baseball teams from Sancti Spiritus and Cienfuegos in the Jose Antonio Huelga Stadium, home to the former. Both teams involve in the fight for the qualifying tickets of the West zone to play off.
After winning the three confrontations 2-1 vs. Artemisa Hunters, Roosters initiate this subseries vs. Elephants in a more compromised position, as they hold a 39-38 record and are placed 4th in the West, with current champions of the Cuban baseball, Pinar del Rio (39-41), following close, only one game and a half.
On the opposite hand, Cienfuegos Elephants are owners of the West's third position with a 42-33 record, two games away from leader Industriales and only one game separated from second placed Matanzas. They hold a four-game advantage over Sancti Spiritus.
Cienfuegos offensive makes it for a 285 while Roosters' goes for 284, both above the national average. Defence performs similar in both teams: 969 ave for Roosters and 968 for Elephants. The difference lies in the pitching area where Cienfuegos is best with a 3, 36 ERA while Sancti Spiritus holds a 4, 02 ERA.
The three confrontations may add another incentive: the fight for some offensive departments in which Roosters Yuliesky Gourriel and Elephants Jose Dariel Abreu are currently involved in.