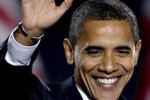 Barack Obama, President of the United States (U.S.), won the elections for a second term of four years, according to projections of several television networks.
With the 80 percent of the ballots counted, the head of State accumulates 275 electoral votes after winning in 21 of the 50 U.S. states.
Obama won reelection, defeating his Republican opponent, Mitt Romney, in a fierce political struggle that lasted more than 18 months.