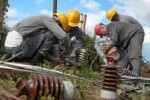 The restoration of power in Santiago de Cuba and Holguin, the eastern provinces hardest hit by Hurricane Sandy, remains among the priorities of recovery 10 days after the storm hit the territory.
According to local media, more than 350 brigades of electricians are working on streets, avenues and houses in urban and rural areas to restore the service to the population gradually.
Tens of kilometers of lines and thousands of posts, transformers and insulators were damaged by the fury of the category-two hurricane in the Saffir-Simpson scale of five, which hit eastern Cuba on October 25.
About 127 power circuits were damaged by Sandy in Santiago de Cuba, due to fallen trees mainly.
The National Electrical Union has designed the strategy to energize power lines in Santiago de Cuba, the country's second most populated territory, to provide basic services to citizens, as a starting point to work on secondary lines.
According to Ahora newspaper, electricity in Holguin has been re-established to 300,000 people, 83 percent of customers in the region, the third most populated province in Cuba with at one million inhabitants, after Havana and Santiago de Cuba.