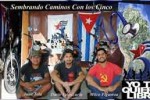 Three young graduates of the Latin American School of Medicine tour several countries of the region in motorcycles arrived today in Bolivia for a stay to be extended until mid December.
They arrived Tuesday from Peru and stayed overnight in Copacabana, where they will remain this Wednesday due to restrictions imposed by the Census of Population and Housing, but will continue Thursday to Lajas, in La Paz department, where one of them was born.
In exclusive statements to Prensa Latina, Argentine Dario Valenzuela, one of the three motorists, advanced their plan to visit the birthplace of Bolivian Juan Tola, the school where he studied and maybe even meet with the mayor and other municipal authorities.
At the same time he revealed their stay in Bolivia will include visits to the departments of La Paz, Oruro, Cochabamba, Santa Cruz, Potosí and Tarija, also to Vallegrande, where Argentine-Cuban guerrilla Ernesto Che Guevara remains were found.
They will also visit La Higuera where the legendary guerrilla was killed on October, 1967 after falling prisoner at the Quebrada del Yuro when his weapon was made useless.
Valenzuela, his compatriot Milko Figueroa and Tola carry a message of solidarity for the freedom of the Cuban heroes unjustly imprisoned in the United States.
They call for support to these anti-terrorists also known as the Cuban Five who have endured imprisonment for the last 14 years, in a process considered a scandal for the US judicial system, full of irregularities constantly denounced without results.
The young motorists were inspired by the tour Che made through South America accompanied by his friend Alberto Granados, when he was a Medicine student.
The three physicians formed in Cuba travelled to Venezuela in 2009 to become specialists as General Practitioners and started the regional tour last June 10.
They travelled extensively in Peru, where they stayed for 39 days, receiving the help and welcome of thousands of people.
The visit to Peru inspired and strengthened the struggle for the liberation of Ramon Labañino, Fernando Gonzalez, Antonio Guerrero, Gerardo Hernández and Rene Gonzalez, allowing them to know the reality of that country in the places visited by them.