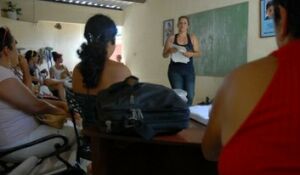 Although estimates tend to be inaccurate, presumably over 28 000 people in Sancti Spiritus, central Cuba, suffer from diabetes. The figure itself is quite alarming, mainly because of the effects of this disease, responsible for severe disorders in an individual's health.
That is why many institutions control and assess diabetic patients regularly. The 2009-born Counseling Center for Diabetes in Sancti Spiritus assists people suffering from this disease, and in three years it has taken care of more than 13 thousand locals who receive ambulatory treatment during the course of their affection.
Dr. Leidis Francisco Gonzalez, specialist on Endocrinology and director of the facility, explains that "patients are offered unlimited assistance, as they are consulted from a clinical, ophthalmological, nutritional and psychological point of view. Podiatrist care is also taken into account".
"Patients are submitted to a 5 day ambulatory admission, during which they are checked every day, their families also get reviewed as well as some other people presenting risk factors which make them more likely to suffer from diabetes. Moreover, educative activities are carried out in a way that both, diabetic patients and relatives, can learn to handle the pathology", said the specialist.
The institution assists children and adults as well, in a project involving the family and people belonging to the different risk groups, such as the obese, hypertension patients, individuals with cardiomyopathy, those with cholesterol and triglycerides disorders, and some others prone to diabetes.
2012 marks the debut for some other services such as a counseling consultation for teenagers, for those suffering of diabetic foot and the preconception risk rendezvous.
Diabetes mellitus consists of a series of metabolic disorders affecting different organs and tissues and characterized by an increment in the glucose levels in blood.