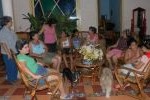 Sancti Spiritus province has provided shelter to children without family protection for more than a quarter of a century, as part of the Cuban state policy concerning the care of children and adolescents, a concept through which more than a hundred children have been looked after.
The most representative of the opened centers for this purpose is Sancti Spiritus Hogar de Niños sin Amparo Familiar (Home for Children without Parental Care), which opened on October 28th, 1985 in the former Villa Conchita, house of great architectural and environmental conditions. The place belonged to a wealthy couple: Anunciata Palacios and Ramon Garcia Rubio, who are believed to have helped children and old people at that epoch.
Some infants have arrived at the shelter in poor mental conditions mainly due to the orphanhood circumstances, for instance of the 65 children, 58 are already linked to society and have become useful people. More than 30 infants were also taken in in Trinidad and Cabaiguan institutions, which were born with the same purpose of protecting children both, psychologically and physically. The former no longer works because it is not necessary, but that of Cabaiguan keeps offering its services for nearly 16 years.
In all cases the beneficiaries receive the appropriate care in accordance to their age and they are linked to schools which meet the specific lessons they need. The functions of the family are assumed by the center workers, who over the years have attended the meetings and have accompanied them in performing their school assignments.
According to statements by Gloria Valdivia, director of the home, in all cases children are fully guaranteed food, clothing, footwear, education and medical services. Some of them have required specialists of various kinds, including surgical interventions, and as it is rule in Cuba, this does not involve any monetary outlay. Also they may count on a psychologist who is of great benefit in the initial stages of adolescence
Sancti Spiritus Home of Children without Parental Care  started with 9 infants, which included five children who had lost their mother in a tragic accident. All of them have formed families and kept close contact with the place that welcomed them for years.