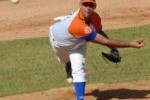 Even with their ace Ismel Jimenez on the box Roosters could not defeat Woodcutters and lowered to the 6th position in the West standings of the 51st Cuban baseball national season, as Metropolitanos  tied in the 4th with Pinar del Rio.
Sancti Spiritus team lost 2-11 to Las Tunas. The latter decided the game early when they scored 4 times in the second chapter before Roosters starter Ismel who got his 4th defeat in the tournament.
The result caused Sancti Spiritus to lose another three-game series in the current season though they remain close to their rivals as these continue also to stumble.
Roosters and Woodcutters shared three victories and three defeats as each of them won the subseries held in their rivals' headquarters 2-1.
Roosters are currently placed 6th in the West standings, half and a game away from 4th positioned Metropolitanos and current champions Pinar del Rio. Offensive works for a 273, defence for a 965 ave, and pitching for a 4, 19ERA, certainly not promising figures in the season.