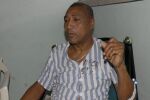 Former Cuban baseball player Lourdes Gourriel, son to Sancti Spiritus province, progresses after being admitted into the provincial hospital Camilo Cienfuegos on Tuesday suffering from a dilated cardiomyopathy (DCM).
Dr. Ricardo Rodriguez Acosta, specialist on Cardiology in the facility, explained that the patient was practiced an echocardiogram as soon as the most visible symptoms showed up.
"The echocardiogram witnessed a heart extremely dilated, with the systolic function impaired and having a hard time to contract. The causes of the failure are yet to be known. We have determined to send him to Havana so he can be carried out several studies with high resolution equipments", said the specialist.
In the Cardiology ward, Lourdes Gourriel talks with members of the local baseball team whom he managed for 8 seasons, conquering a silver medal, two bronze, and seven qualifications for the Cuban baseball play-offs.
Though reported in serious condition, the patient progresses and expresses he "feels much better since he arrived at the hospital. The people have been really kind to me and I appreciate their concern. I'm carefully following my doctor's advice".
Lourdes Gourriel Delgado is the most relevant of all Sancti Spiritus baseball players. He played for 20 seasons with the local team, representing Cuba in 14 occasions. His name was immortalized in the 1998's World Championship in Italy; where he shot a homer that meant the tie for Cuba vs. USA in the game for the gold medal. Cuban Revolution Leader Fidel Castro would name him Parma's Hero after that event.
Dilated cardiomyopathy is the most common of all cardiopathies. It is an affection in which the heart becomes weakened and enlarged and cannot pump blood efficiently. The decreased heart function can affect the lungs, liver, and other body systems.