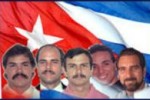 Religious leaders joined their voices to other sectors of Cuban society to demand freedom and return to the island of the five anti-terrorists sentenced to severe penalties in the United States.
As young people, women, peasants, workers and intellectuals; representatives of the religious diversity that exists in Cuba considered necessary to end the situation of Gerardo Hernandez, Rene Gonzalez, Antonio Guerrero, Ramon Labañino and Fernando Gonzalez.
"I wish the U.S. government to have mercy to release those guys who were trying to defend their country from the horrific terrorist actions" said in this capital the President of the Islamic League of Cuba, Pedro Lazo and regretted the separation from their loved ones.
For her part, the director general of the Soka Gakkai lay Buddhist organization of Cuba, Joannet Delgado, described as sad the case of those fighters. Four of them are still imprisoned, while Rene is under supervised release for three more years in the northern nation, a decision seen by activists as an additional punishment.
For Delgado, there is a clear intention to destroy and undermine their will to resist, which is considered unlikely, given the support for their cause in Cuba, and also from many people worldwide.
Also the moderator (president) of the Presbyterian Reformed Church in Cuba, Daniel Izquierdo, called for the return of Gerardo, René, Antonio, Ramón and Fernando to their country.
Taken from Prensa latina