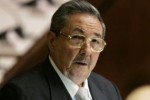 President Raul Castro talked with UN Secretary General Ban Ki-moon about the effects of Hurricane Sandy in this Caribbean country.
Raul Castro received a telephone call on November 3 in Santiago de Cuba from the UN chief, said a note issued in this capital.
Ban Ki-moon conveyed his condolences for the deaths and damage caused by Hurricane Sandy, and expressed solidarity with the Cuban people and government.
The secretary general suggested the provision from the U.N. Funds and Programs to offer cooperation to Cuba, as it has been coordinating, the text says.
The Cuban president commented Ban Ki-moon about the considerable damage in the eastern and central provinces, particularly in Santiago de Cuba.
Raul Castro spoke of the assistance to the people affected, and about the extraordinary effort the country is carrying out in the recovery process, the note states.